Our Philosophy
At SEQUOIA, we believe that having a healthy brain is central to a child's holistic development (Figure 1.1).

The brain is an engine of the body that needs consistent attention, nurturing, and training in order to function at its best.

Both the psychological and physical aspects of brain development have a significant impact on the way a child feels, thinks, learns, and makes decisions.

A child with a healthy brain will:

Mature faster
Regulate emotions better
Adapt to social settings more easily
Problem-solve more efficiently
Acquire academic skills more quickly
Be more creative

Because of this, our curriculum and guidance always stem from the intention of helping every child develop a healthy brain, in order to provide them with a strong foundation to reach their full human potential (Figure 1.2).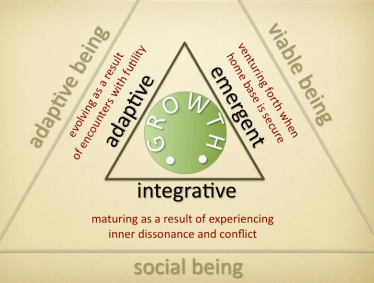 ---
What helps children to develop healthy brains?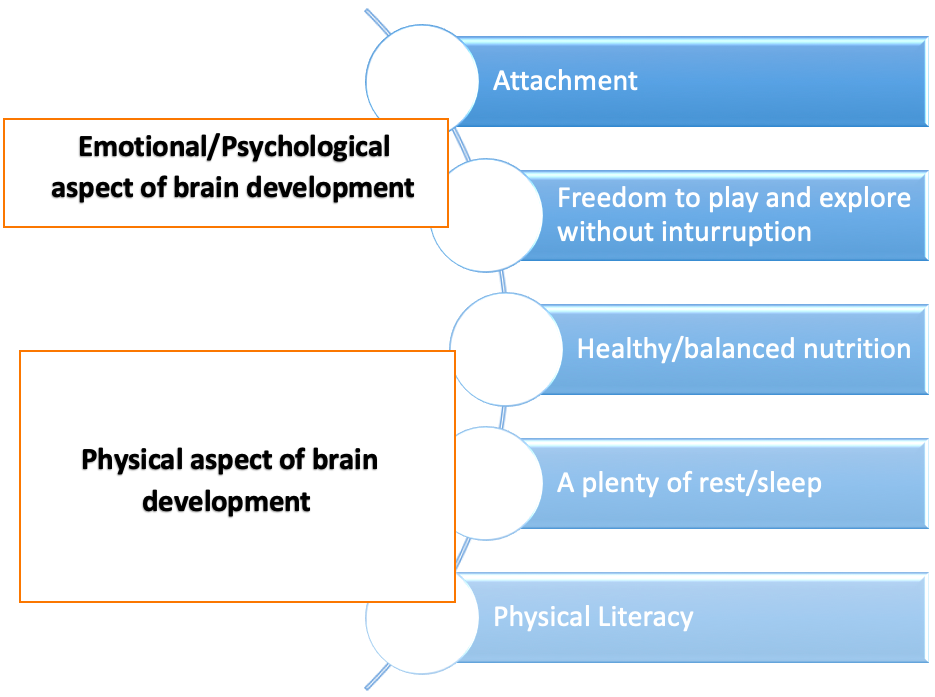 ---
How does SEQUOIA help children develop healthy brains in order to reach their full human potential?
In order for a child to reach their full human potential, they must be nurtured both physically and psychologically.


At SEQUOIA, we do this through a combination of four Core Elements that are integrated into our daily routines, and five Core Principles that are the foundation of our entire learning curriculum.
---
Core Elements of the SEQUOIA's Routine
We support healthy brain development in every child with a daily routine built with the following four elements: outdoor activity, balanced nutrition, adequate rest, and uninterrupted play.

Outdoor and Nature Adventure: Physical literacy in young children helps foster healthy psychological and physical development. At SEQUOIA, we have plenty of outdoor space where children can connect with nature, breathe fresh air, exercise, and explore.

Healthy and Balanced Nutrition: We encourage children to bring food with no or little sugar and sodium in order to maintain a healthy and balanced diet and support proper brain and immune function.

Individually-Needed Rest and Sleep: Every child has a right to rest and sleep. Nap times vary according to a child's individual needs, and we do not interrupt a child's nap if their body needs to rest.

Open Play Time: Play is the primary way children develop, mature, and learn at SEQUOIA. Allowing children to have uninterrupted playtime through their own initiation in order to exercise their own creativity is incredibly important to their holistic development.
---
Core Principles of Our Curriculum
We use the following five principles to guide a child through every interaction and experience. These principles help each child develop a healthy sense of sense of self, foster awareness of the world around them, and build meaningful and harmonious connections with others.

The foundational principles are: play, relationship, compassion, social responsibility, and accepting diversity.

How to Play

Play is the most effective way of helping young children learn and understand their world, allowing them to explore their surroundings with their bodies, minds, and senses.
Play is initiated and led by children's natural and individual curiosities, interests, questions, conversations, and creativity.
During play, children use repetition, imitation, and experience trial-and-error in order to learn and make sense of the world around them.
Play can be experienced through various forms such as art, sports, singing, telling or listening to stories, making, building, conversations, acting, dancing, and many more.

How to Build and Manage Healthy and Meaningful Relationships

Young children thrive in healthy and meaningful relationships.
Healthy and meaningful relationships act as a secure base for young children, enabling and empowering them to be curious, initiate, and explore their environment in order to learn.
We build trust and security with every child by making sure they are always seen, heard, nurtured, and acknowledged.
We put an immense amount of effort to learn about each child's interests, strengths, challenges, temperaments, and biological rhythms in order to connect with them more deeply.

How to Be Compassionate

Empathy and compassion are key qualities to acquire and practice daily in order for children to have healthy social lives.
Empathy enables children to consider different perspectives, and compassion helps them practice kindness toward themselves and to others.
Young children naturally encounter conflict when playing with others, and need to be guided through the experience of more difficult emotions such as anger, frustration, disappointment, and possessiveness.
Compassion can be taught in such circumstances through conversations, storytelling, and an educator's role modelling.

How to Be Socially Responsible Individuals and Appreciate Diversity

Since humans are social beings, it is vital for young children to understand what it means to be a responsible individual and appreciate the diversity around them.
Young children must learn to navigate different group settings outside of their own home and family members.
By interacting with a variety of groups, children learn how to be responsible for their personal belongings, to clean up after themselves, to adapt to different environments, and to connect with and accept different teachers and friends.
---
Our curriculum and routines are inspired by:
Reggio Emilia Approach: Collaborative learning through nature, recognizing each child's unique way to learning
Gordon Neufeld: Play, Attachment, human potential
Daniel Siegel: Emotional Intelligence
BC Early Learning Framework: Best Early Years practice